Abby from Twist Me Pretty is up for our FHandM series. I don't know how this girl does it! She has 2 gorgeous kids, an extremely successful blog, an album dropping this month, a published e-book of hairstyles (you can find her cute book here) and always looks so stunning (maybe it has something to do with her "Me" section)! Anyway, this girl is amazing and I can't wait for her to come back to town at the end of summer. Take it away, Abby!
"Hi guys! My name is Abby and I blog over at Twist Me Pretty. I have a three year old boy named Boston and a one year girl named Savy. We are currently living in Gig Harbor, Washington as my husband interns for a company this summer. He's a student in the MBA program at BYU so we'll be back to Provo in no time. Anyway, I just love Kensie and am so happy she's asked me to share a little bit about my life and the things that make it a little less crazy!"
"Where oh where to begin. I've been thinking a lot about what I've wanted to share... something spiritual? Something fun? And the thing I kept coming back to was food. Ha, imagine that. Food is such a huge part of my life. Not because I think about it all day (because I do) but because when my kids don't eat every two hours it's a war zone. We experience a high volume of melt downs, whining, like fingers down the chalk board you-wanna-rip-out-your-hair whining, and just plain unhappiness. I have learned that as a mom it's all about preparation. If I plan ahead I can avoid mass pandemonium. My favorite trick right now comes in the form of a tiny baby muffin."
"If I can bake muffins once a week and just have them for when those low-blood sugar levels strike I can avoid huge tantrums. If Boston starts getting whiney, "here babe, have a muffin". If I can get him to eat a muffin I have just enough time to prepare him something before it's too late and he turns into Mr. Hyde. Mom's, you know what I'm talking about right?! My favorite muffin recipes right now are the ones I can sneak healthy foods into. These whole wheat banana muffins and these almond flour zucchini muffins won't disappoint. My kids absolutely love them. I'm actually not sure if they love the muffins as much as they love the colorful silicone liners! I use them to divide up food on their plates too. They're my favorite. I have a whole bunch of kid friendly lunches and other random foods on my instagram account if you'd like to follow along, @twistmepretty."
"I am fairly positive I should offer absolutely zero advice on this one! I am probably the biggest slob this world has ever seen... at least that's what my husband says. He's a clean freak though so we don't listen to him hehe! I would have to say the thing that has helped me the most is to just pick up every night and to get the dishes done before bed. If I start the day with a messy house I feel like I'm already behind! Check out my Pinterest board though because I am fabulous at hoarding ideas I'd like to implement! While I am not the cleanest person you've ever met, I do have to say that there is something about having a house of order. Your home can be a heaven on earth. But... is it? The tone that's established in your home is set by you. If you're grumpy- so is everyone else. Take time for yourself, wake up before the kids and do something for you. Exercise or make a yummy breakfast. Be ready for your family when they arise because when they do... well, we all know what comes next!"
"I think it's so important to get ready everyday and to feel like more than just mom. I'm not saying you shouldn't wear sweats everyday of your life (guilty) but make an effort to shower and put on your makeup... even do something different with your hair (insert surprised emoticon here). If you can feel beautiful, chances are you will act beautiful. Plus, if you never get ready then you never want to leave your house or you're not ready when you're friends spontaneously invite you to the park leaving you feeling alone and left out of all adult interaction... believe me, I know. If you've never seen my site then you don't know I kind of have this thing for hair... hence the blog name twist me pretty!"
"Hop on over and visit my style gallery. I have a ba-jillion (I really counted, it's a ba-jillion) mom hairstyles for you to try. Some are hard and some a super easy. Some are quick and some may take a couple minutes but if you can learn to french braid, then you can achieve any of these hairstyles. And the thing about dressing up your hair is it's completely free. Woot-woot!"
"Thanks for having me Kensie! You guys can find me over at
Twist Me Pretty
. I love new friends!"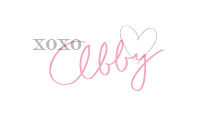 Isn't she the cutest!? Thanks, Abby! Seriously, go check out her blog for the coolest hairstyles you've ever seen!
If you are interested in contributing to the Family, Home, and Me series, please email me at gracefullykensie [at] gmail [dot] com.